At Lollipop Nursery & Day Care, We Provide A Home Away From Home
Where Children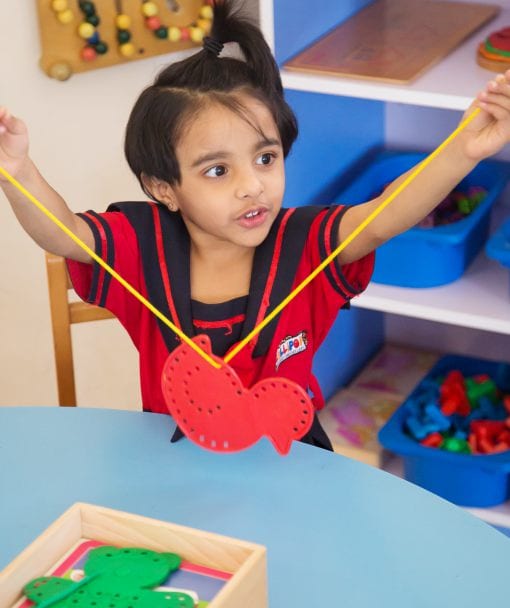 LEARN & DISCOVER
Children are taught in numerous ways the fundamental educational basics, such as alphabets, numbers, colors, shapes, phonics, holding pencil, writing etc.. so that they get a solid foundation to easily transition to KG1/FS2 or KG2/Year 1 and easily understand and actively participate in class after joining schools.
ENGAGE THROUGH PLAY
The children are provided with age appropriate activities where they explore and experiment the world around them through play. Play experiences can range from free play to highly structured play, which involves intentional planning and facilitation of children's play to achieve intended learning outcomes. Laughter and fun also brings children closer, helps them communicate and creates a wonderful bond of friendship.
ACHIEVE ALL ROUND DEVELOPMENT
To promote academic, personal, social, emotional, physical and creative abilities in children, it is crucial to help them develop knowledge and skills across the 6 main learning areas – Aesthetics & Creative Expression, Discovery of the World, Language & Literacy, Motor Skills Development, Numeracy, and Social & Emotional Development.
RESPOND TO PHYSICAL & EMOTIONAL STIMULI
The learning pods encourage each child's critical thinking & creativity and help them to explore and discover the world around them through project-based, enquiry driven activities that help them learn through play.
NURTURE NECESSARY VALUES
Children learn through example and this why it is crucial to provide them with a suitable environment where they feel like they belong – irrespective of their nationality, colour or physical attributes. Through storytelling and other learning based activities, the children begin to understand the difference between right & wrong and good & bad. Parental support is equally important to nurture good values in each child.
Our Discoverers, Explorers And
Learners!
The curriculum at Lollipop Nursery & Day Care has been specially designed to engage the children and encourage learning through play, activities & worksheets based on their ages.
Discoverers
Age: 9 months – 1 .5 year
The Discoverers pod is designed to encourage a baby's innate curiosity and to improve their sensory perceptions through play. Age appropriate activities are planned and accomplished to help growth and development
Explorers
Age: 1.5 years – 2 .5 years
The Explorers pod is designed to educate toddlers on the basics of the world they live in through words, sounds and actions, thus sharpening their senses and improving their skill of communicating through play. This is accomplished through age appropriate activities and worksheets.
Learners
Age: 2.5 years – 4 years
The Learners pod is designed to fine-tune the skills of preschoolers, instill confidence and inspire creativity through play. Through age appropriate activities and worksheets, the preschoolers are educated for schools.