Early years play a crucial role in a child's brain development. Remember that their first learning experience deeply influences their future cognitive, emotional, social and physical development. Optimizing your child's early years is the best thing that you can do to ensure his/her future success. Sending your child to a reputed nursery can help you achieve this purpose.
1. Why Send Your Child To A Nursery?

Develops Better Social Skills
Nurseries help children socialize with others and make friends. Children will be eager to play with their friends and engage with them. Nurseries can also benefit parents. Your child is being cared for by nursery practitioners who enjoy their work and know how to manage tantrums and change. You will feel relaxed knowing that your child is in good hands. Since they witness the behavior of kids from a different experience and perspective, they can give you constructive opinions and advice on the development of your child.
Encourages Playtime
Nurseries promote playtime. Children will have a chance to learn one-to-one with a teacher or in a group. They can play with other kids, helping them gain more confidence. An active child is also more likely to stay active later, so both outdoor and indoor activities must be encouraged. Since nurseries don't have a TV, children are encouraged to play with other kids. Their muscle control, coordination and balance will be developed.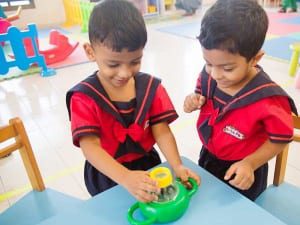 Prepares Children for School
Children who interact with other kids are better equipped and more prepared to go to school. They adapt to a learning environment with ease and feel safer in a new setting. They also develop better social skills and confidence in connecting with adults. Nurseries will encourage kids to wash their hands and wait for things. Your child will know how he or she should behave.
Supports Potty Training
Nurseries also support potty training. While it is not the only reason to send your child to a nursery, successful potty training will definitely improve your child's general lifestyle.
2. What To Look For In Nursery Schools In Sharjah?
If you want to send your child to a nursery in Sharjah, you should look at the quality of environment, activities and learning it offers. You should also consider the staff of the nursery. Make sure that the nursery in Sharjah is licensed and approved by the Ministry.
Lollipop Nursery will not only prepare your child for school, but also ensure that he/she is able to develop the social skills he/she needs to make friends and adapt in various situations. Each room is optimized for a child's learning, so you can have peace of mind knowing that your child is in good hands.